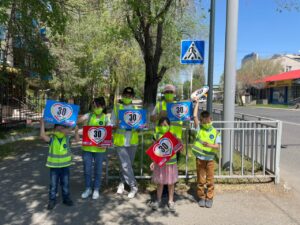 Kazakh Scientific Research Institute for Road Traffic Safety jointly with Committee for Roads Ministry of industry and infrastructural development RK and Taldykorgan city akimat has conducted event flash mob in connection to UN Global Road Safety Week held on 17th-23rd May 2021.
Message of the conducted event with prepared video clip is propaganda of safety, safe driving, safe crossings, directed to small road traffic participants and drivers.
Main topic of safety week are streets, speed limitation till 30 km/h in pedestrian areas. This particular speed created comfort environment for inhabitants. Apart of evident advantage as creation of safer roads, decrease of speed is important for fight against climate change, decreasing carbon dioxide emissions and encouragement of healthy life style.
Figure 30 is not casual. Many researches demonstrate that probability of death is decreased for 90% when speed does not exceed 30 km/h.
KazSRIRS absolutely supports this position of UN and performing works on adopting in Kazakhstan best practices in road safety field.